About this Product
Excellent cover for Overnights! This Made-to-Order WindPro Cover for cloth diapers features Citron (Lemon Lime) heavy WindPro Fleece by Polartec, with your choice of color trim (wing snaps and serging thread). Your cover is made to order. It will look similar to the example pictures, but with your color choice of trim (snaps/thread).

You pick size: Newborn 6-15 lbs (16" rise) and includes umbilical snap-down front, Big Nb 8-18 lbs (17" rise) and includes umbilical snap-down front, Small/Medium 10-25 lbs (18" rise), Medium/Long 15-30 lbs (19" rise), Large 20-40+ lbs (21" rise), X-Large 30-55+ lbs (22" rise) or One Size Fits Most 10-35 lbs (20" rise) and includes a fold-down front belly panel to reduce the rise for smaller babies.
The WindPro fleece is Citron (ie Lemon/Lime), and you select the color of the trim (serging thread and wing snaps): royal blue, navy blue, turquoise, pink, violet, purple, dark green, light green, light blue (as pictured) lime, orange, yellow, red, brown, black, white, or rainbow (variegated red/blue/green/yellow).

Features: - Premium Wind Pro fleece produced by Polartec (formerly known as Malden Mills). - Breathable like wool, but just as easy-care as PUL. - Professional polyresin snaps provide a range of comfortable size adjustments - Enclosed polybraid elastic at the legs and back waist contain messes. - Trimmed with soft Woolly Nylon thread. - Easy machine wash and dry. Throw it in with your diaper laundry, or wash with clothing. Fabric softener will not harm it. - Can be reused several times as long as the interior doesn't get soiled. If inside is damp, air out between uses. - Best cloth diaper cover for prefolds! Also excellent for use over trifolds, inserts, contours, and fitteds.
OUTER LAYER: Citron Wind Pro fleece by Polartec. INNER LAYER: A coordinating color of lighter weight polar fleece.
This cover is excellent for overnights! No need to struggle with fitting a soaker up and down over large nighttime diapers. The snapping wrap style makes it so much easier. Can be used over almost any type of diaper, including prefolds, contours, or fitteds. Generously cut to fit over most all types of diapers including Fitteds.
Polartec/Malden Mills Wind Pro fleece is my absolute favorite fleece for diapering. It's extremely water resistant and very breathable and soft. And so easy care! Perfect for both day and night use. Can be used over virtually any type of diaper...flats, prefolds, contours, prefitteds, fitteds, even trifolded prefolds.
Little Boppers diapers and covers are all made by me, in my smoke-free, pet-friendly home in Central Texas, USA. Made-To-Order items are currently averaging 2-3 weeks to ship. Ships FREE in the USA!
Meet the Maker
Hi, I'm Anne! I specialize in super fun Cloth Diapers and Covers in stylish prints, since April 2003! I'm a member of the Real Diaper Industry Association, and a three-time winner of Diaper Pin's Customer Choice Award. 4% of the revenue from this shop is donated to help children in need! When you shop here (and any of the other shops hosted by GoImagine) you're participating in the Caring Economy! ♥

When I first became a parent, there were a lot of decisions to make. One of those was which kind of diapers to use. After seeing a friend enjoying cloth diapering her baby, I decided on the cloth diaper route too. Back then (1996), cloth diapers mostly meant prefolds and velcro wraps. I felt good about my decision to use cloth for environmental and health reasons and for cost savings, but those early cloth diapers tended to leak a lot. When my second child was born, the internet was beginning to flourish and I went online to connect with other moms like me. I learned some of them were making their own cloth diapers, and since I loved to sew that really excited me. I began making diapers for our own use and eventually started selling and trading them with other moms. I discovered I could make really adorable diapers that worked so much better than the old prefolds and wraps that I had started out with. This made me feel great! I didn't want to give up the fun of making these diapers when the last of my four little ones finally potty learned, so I decided I would continue...and now I've been a cloth diaper artisan-manufacturer for almost 19 years.
During those years I've perfected this line of great-fitting diapers that work so well, and best of all...they're so cute you will really ENJOY diapering! That's what makes my job worthwhile. Knowing that your sweet babies are out there wearing these adorable diapers and feeling comfy in them and making you happy about your diapering choices makes me want to keep doing this forever! It has become my personal mission to make your child's diapering experience happy and comfortable and to make you feel great about this part of parenting. Cloth diapering can and should be FUN!
MORE ABOUT LITTLE BOPPERS PRODUCT STYLES:
What Type of cloth diapering product are you looking for? Little Boppers products are available in two kinds of AI2 (Hidden-PUL or Wind Pro), two kinds of Fitteds (Hybrid or Traditional), and in two kinds of Covers (Hidden-PUL or Wind Pro).
What are AI2s? All-in-Two diapers (aka AI2) are "All" you need, in "2" pieces: the shell and the soaker/insert. The outer shell is waterproof and it functions like a diaper cover. The soaker (also called insert) is the absorbent part that snaps into the inside of the shell. If only the insert becomes wet, you can simply switch out a fresh insert and re-use the shell. Little Boppers AI2s are available in two different styles: Hidden-PUL and Wind Pro. They are basically the same, except for what makes up the water-resistant layer. In the Hidden-PUL version, that layer is polyurethane coated polyester knit (PUL), a commonly used diaper fabric. In the Wind Pro version, that layer is a top-quality technical fleece produced by Polartec that is both breathable and water-resistant. The Hidden-PUL is trimmer fitting. The Wind Pro version is more breathable. Both versions of AI2s have a three-petal bamboo and cotton soaker topped with velour. The One Size option includes a snap-in booster that can function as a small newborn soaker on its own, a belly snap cover, and a fold-down rise. The Sized versions have hidden-belly snaps, so baby feels nothing but smooth fabric against the skin.
What are Fitteds? Fitted diapers look similar to AI2s from the outside, and include two parts (a shell and a snap-in soaker) but they are not waterproof on their own. Normally, a Fitted is used with a separate waterproof Diaper Cover over it. Little Boppers Fitteds are available in two styles: Traditional Fitted and Hybrid Fitted. They are the same, except for what material makes up the hidden body layer between the outer print and the interior velour. In the Traditional Fitted, that hidden body layer is bamboo interlock, an absorbent layer. In the Hybrid Fitted, that hidden body layer is anti-pill polar fleece, a non-absorbent layer that can improve absorbency by helping the pee be distributed throughout the rest of the diaper rather than soaking through the crotch. Both versions of the Fitteds have two-petal bamboo and cotton soakers, topped with velour. The One Size version includes a small snap-in booster than can function as a newborn soaker on its own, a belly snap cover, and a fold-down rise. The Sized versions have hidden-belly snaps, so baby feels nothing but smooth fabric against the skin.
What are Diaper Covers? Diaper Covers are not absorbent on their own. They are water-resistant and intended to be worn over an absorbent diaper of some sort (such as a Fitted, Prefold, or Flat, or an Insert). Little Boppers Diaper Covers are available in two versions: (Hidden-PUL and Wind Pro). They look like the AI2 shells, except there are no snaps on the back (unless you request them) because they do not come with any kind of insert. The only difference between the two styles is what makes the water-resistant layer. In the Hidden-PUL version, that layer is polyurethane coated polyester knit (PUL), a commonly used diaper fabric. In the Wind Pro version, that layer is a top-quality technical fleece produced by Polartec that is both breathable and water-resistant. The Hidden-PUL is trimmer fitting. The Wind Pro version is more breathable. Little Boppers Diaper Covers are a great choice if you already have a stash of prefolds, flats, or fitteds, or inserts from other diapers.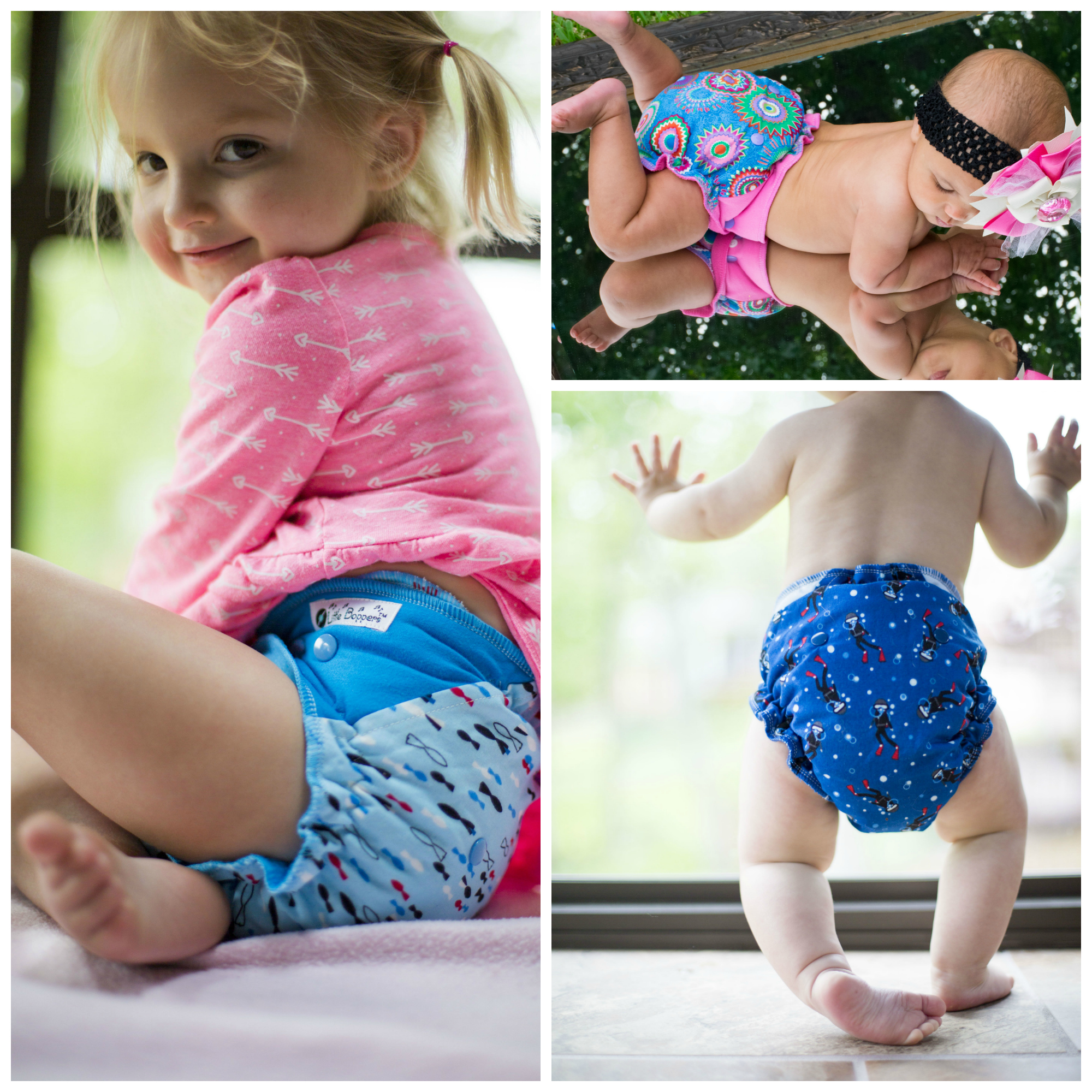 How it's Made
All items featured here are handmade by me, Anne Martin, in my smoke-free, pet-friendly home in Central Texas, USA. These diapers and covers are made from my own patterns I drafted and put through extensive testing with many different sized babies and toddlers. I make each diaper individually, with great attention to detail. Your baby is wearing something special when he/she has on Little Boppers.
Shop Policies
I gladly accept exchanges

Contact me within: 7 days of delivery
Ship items back within: 14 days of delivery
I don't accept returns or cancellations
But please contact me if you have any problems with your order.
Conditions of return
Buyers are responsible for return shipping costs. If the item is not returned in its original condition, the buyer is responsible for any loss in value.
Sizing details
Little Boppers Diaper Sizes (Covers have 1 additional inch of rise measurement & fit slightly bigger than same size diapers):

NEWBORN fits approx. 6 - 15 lbs (2.7 - 6.8 kg) with a 15 inch (38cm) rise measurement.
BIG NEWBORN fits approx. 8 - 18 lbs (3.6 - 8 kg) with a 16 inch (40.6cm) rise measurement.
SMALL/MEDIUM fits approx. 10 - 25 lbs (4.5-11.3 kg) with a 17 inch (43cm) rise measurement
MEDIUM/LONG fits approx. 15 - 30 lbs (6.8 - 13.6 kg) with an 18 inch (45.7cm) rise measurement.
LARGE fits approx. 20 - 40+ lbs (9 - 18 kg) with a 20 inch (51cm) rise measurement.
X-LARGE fits approx 30 - 55+ lbs (13.6-25kg) with a 21 inch (53cm) rise measurement.
ONE SIZE fits approx 10 - 35 lbs (4.5-16kg) with a 19 inch (48cm) rise measurement.
Care instructions
1. DUMP: Dump solid material into toilet.
Put diapers in (dry) pail until wash time.

2. RINSE: Optimally run your load once you can mostly fill, but not overstuff, your washer. Rinse diapers in warm water.

3. WASH: Wash diapers with detergent in hot water. I recommend Tide powder. Use additional detergent if you have hard water. Use enough detergent to clean a load of dirty laundry but not too much.

4. RINSE: Rinse diapers in warm water. Then one more rinse again in warm water.

5. DRY: Thoroughly dry diapers in sun or in your automatic dryer. The sun will save energy and bleach out stains. If you use a dryer, use the lowest temperature that successfully dries your diapers.
More info: http://realdiapers.org/wash
A note regarding COUPON CODES
Any coupon codes must be applied at the time of purchase. They cannot be applied retroactively. Also you cannot combine more than one coupon code.
A note about possible Returns and/or Exchanges
If you receive an item that you'd prefer to Return or Exchange please contact me as soon as possible (it must be within 7 days of receiving your item). I want you to be happy with your purchase so I'm open to returns and exchanges, however there will be a restocking fee of $3 per item. You will need to return the item(s) to me, and once I receive it I will refund you for the price you paid minus the restocking fee.
Sizing details
That's a lot of size choices! Will I need EVERY size for my baby?

Most people only use 3 sizes to cover birth through potty learning. If you're expecting an average size newborn, start with Newborn diapers, then size up to Small/Med, & then size Large will cover most babies until potty learning. Or, if you're expecting a bigger newborn, start with Big Nb, then size up to Med/Long, then up to Large (or X-Large if you have a very big toddler) until potty learning. Alternatively, you can opt for One Size diapers and they will cover most babies from 10-35 lbs and may be the only size you ever need. When your baby outgrows a size, you can hang onto them for future babies, or resell them on For Sale or Trade boards online.
Can these Diaper Covers (or AI2 shells) be used more than once before laundering?
If baby only pees (or if he/she poops but it stays on the insert/prefold/diaper and doesn't get onto the inside of the cover) then you can re-use the Cover or AI2 Shell, with a fresh insert/diaper. Usually you'll want to let it air dry a bit in between uses, so alternating two or three covers works well. In this scenario you could theoretically use them all day as long as they don't get soiled. But after a few uses even if they don't get poo on them, you'll want to wash them. The interior lining of the Cover or AI2 shell is soft fleece, for comfort against baby's sensitive skin. Fleece is not considered especially "wipeable", but I find this is much softer for baby versus exposed PUL.
Please sign in so that we can notify you about a reply